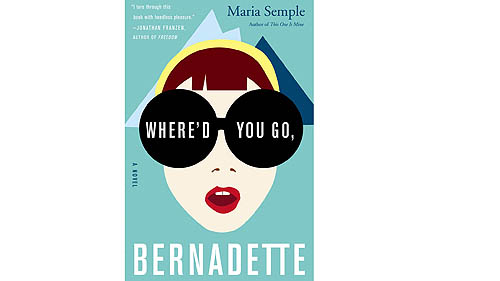 Where'd You Go, Bernadette
Ohhhhkay.
I seriously love this book! For some reason, I had decided that I was not going to read this one. But it was chosen as a monthly read for a bookclub that I am a part of on Goodreads, and then I realized that my library had a copy, and I was like, okay universe, I get it! I can take a hint!
From Goodreads:
Bernadette Fox is notorious. To her Microsoft-guru husband, she's a fearlessly opinionated partner; to fellow private-school mothers in Seattle, she's a disgrace; to design mavens, she's a revolutionary architect, and to 15-year-old Bee, she is a best friend and, simply, Mom.
Then Bernadette disappears. It began when Bee aced her report card and claimed her promised reward: a family trip to Antarctica. But Bernadette's intensifying allergy to Seattle—and people in general—has made her so agoraphobic that a virtual assistant in India now runs her most basic errands. A trip to the end of the earth is problematic.
To find her mother, Bee compiles email messages, official documents, secret correspondence—creating a compulsively readable and touching novel about misplaced genius and a mother and daughter's role in an absurd world.
Caution, Spoilers Ahead!
It's hard to know where to begin with this one, so I'll start with Bernadette. I felt really protective of her the entire time I was reading. I just couldn't believe all of the things that had happened to her and the hands of other adults, and she felt that it was all her fault. I'm not saying that she is blameless, but how is it her fault that her Twenty Mile House was literally destroyed? I feel like there was solo much more to that but anyway..
That brings me to Elgin. Where in the hell was he during all of this? Oh yeah, playing with robots. I tried really hard not to hate him, and I think I feel mostly at peace now, but the way that he was willing to take everything that everyone said about Bernadette at face value and have her shipped off was disgusting. And he was so disconnected from his wife that he didn't even realize that the people he was getting said info from were women who shunned Bernadette and Bee on a regular basis.
Which brings me to Soo-Lin. I have not one ounce of pity for that gnat. I really feel like she projected a version of Eglin that she created in her head onto the broken, pathetic one, and took advantage of a person who's life was falling apart, and she realizes most of that, but doesn't seem that sorry about it. It's still all about her and her baby, which I also feel like was part of her coup.
Okay, I have to have something positive in here, so I give you Bee. Balakrishna. What an amazing name. I loved her interjections in the story, which is later realized to be her book. She just loves her mom so much. All of the Galer Street gnats pity her, but the truth is that she more well-adjusted than any of the other kids. I loved her view of the world.
As many negative things that I have to say about certain characters you would think that I didn't enjoy this book, but it's quite the opposite. I absolutely loved it. It has the perfect amount of quirkiness and snark, which are things that I love to find in a book.
This is the first book that I have given five stars to in many months, and it will go on my 2013 'Best' list! I would recommend this as a perfect summer read!